There are lots of things to consider when you're thinking about making your dreams of homeownership a reality. Of course, what tops that list is whether or not you can actually afford to do it.
But, HSH.com, which is touted as the nation's largest publisher of mortgage and consumer loan information, has made that question a bit easier to answer—at least in the 27 cities that it calculated the base salary needed to make the mortgage payments on average homes in the area.
Of course, a far more in-depth look at your income and debt, coupled by what you're looking for in a home (three-bedroom? Pool? Garage?) is required to get to the bottom of the "am I financially ready?" question, but HSH.com's calculations below can at least provide a starting point for your info gathering. In case you're interested in the details of the calculations, the HSH.com website explains how it came to these numbers:
"HSH.com calculated the income required to cover the mortgage's principal, interest, tax and insurance payment. We used standard 28 percent 'front-end' debt ratios and a 20 percent down payment subtracted from the median-home-price data to arrive at our figures. Loans with less than a 20 percent down payment will incur mortgage insurance which would in turn increase the required salary figure."
More simply, they totaled all the expenses that go into a home purchase, and they calculate a standard 20% down payment to get their numbers.
It is not super surprising what cities require the highest salaries (San Francisco, San Diego and New York City) or those that are most affordable (Cleveland, Pittsburg and St. Louis) given the economic climate in those cities and the high or low cost of living. Nevertheless, the information about just exactly how much income you'll need to buy a home in these 27 cities is pretty fascinating.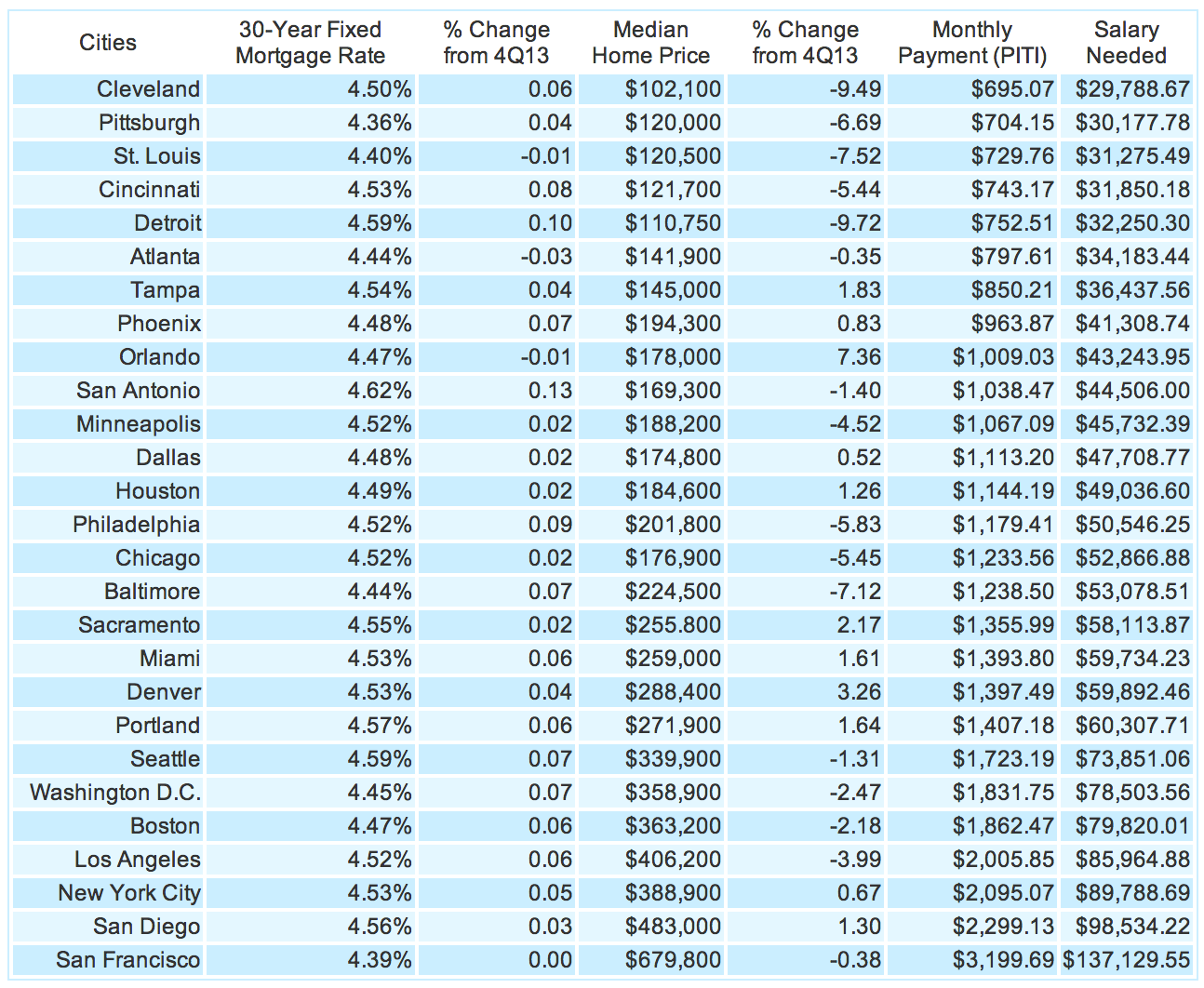 Nice newsletter. Good article. Good information. Thank you. Carol
For conventional financing, borrowers with scores at 740 or anywhere above generally receive the same loan pricing (rate and cost). That being said, the better your credit the higher your chances of receiving loan approval with high debt to income (up to 50%) or high loan to value (up to 95%) which can be a major benefit when applying for a new loan. For Jumbo financing, borrowers with credit scores above 800 are generally rewarded with both better pricing and easier guidelines. There are no situations where better credit is a negative when obtaining new financing so we should all continue to strive to reach and then stay in the 800's.
What are the advantages of a score over 800
Thank you Mike for this information. As a residential realtor the information that you provide is crucial to a successful transaction for my clients. You are indeed a pleasure to recommend to all of my clients. You are so professional, thorough, conscientious and pleasant to work with. !!
Hi Dane! Wanted to make sure I'm clear on this. Am I right in saying that on whichever remodel is done you still take a loss rather than an increase in value - the ROI will never exceed 100% of cost?